GET PRE-QUALIFIED NOW!
Get pre-qualified with our free, quick, and easy application.
Homebuying: BORROWERS GUIDE

LOAN OFFICER:
Preapproves you to determine how much you can borrow for your purchase.
Explains the flexible loan options PRMG has to offer.
Collects necessary documentation to assure the entire process goes smoothly.

OFICIAL DE PRESTAMO:
Proporciona una aprobación condicional para determinar cuánto puede pedir prestado para su compra.

Explica las opciones de préstamos flexibles disponibles con PRMG.

Acumula documentación necesaria para garantizar que todo el proceso se realice sin problemas.

REAL ESTATE AGENT:
Helps you find the home you are looking for!
Researches the market trends to assist in making the right offer.
Keeps you apprised of any necessary paperwork and deadlines.

AGENTE DE BIENES RAÍCES
¡Te ayudará a buscar la casa de tus sueños!

Investiga las tendencias del mercado para ayudarte a hacer la oferta correcta.

Te avisa si hay fechas límite y documentos que necesitan tu firma.

INSURANCE AGENT:
Assesses your needs to help you find the best homeowner's insurance.
Provides proof of insurance to your lender, a.k.a. PRMG!

AGENTE DE SEGUROS
Evalúa tus necesidades para ayudarte a encontrar el seguro de propietarios de vivienda más apropiado para ti.
Proporciona prueba de seguros a tu prestamista, en este caso, ¡PRMG!
TITLE AND ESCROW AGENTS:
Title Officer ensures there are no discrepancies related to the title of the deed of the home.
Escrow Officer reviews and finalizes documentation before funds for the sale are transferred.
AGENTES DE TÍTULO Y RESERVA:
El oficial de título se asegura de que no haya discrepancias asociadas con el título de la escritura de la casa.

El oficial de reserva revisa y finaliza la documentación antes de transferir los fondos de la venta.
HOME INSPECTOR:
Inspects the home for damages.
Evaluates what needs repairs or replacements.
Provides reports that determine whether you should move forward.
INSPECTOR DE VIVIENDAS:
Revisa que la casa esté libre de daños.

Evalúa lo que necesita repararse o reemplazarse.

Proporciona un informe que determina si debe continuar con el proceso.

APPRAISER:
By comparing different criteria, the appraiser can estimate the market value of your home
Measures your chosen home up against surrounding

TASADOR:
Al comparar diferentes criterios, el tasador puede estimar el valor de mercado de tu hogar.

Compara la casa seleccionada con las viviendas circundantes.
Homebuying: do's and donts
Dos and Don'ts
DURING THE LOAN PROCESS
Consejos y Errores a Evitar
DURANTE EL PROCESO DE PRÉSTAMO
Don't Quit Your Job!
Don't Apply for New Credit!
Don't Co-sign on Any Loan!
Don't Increase or Consolidate Debt
Don't Change Banks
Don't Transfer Funds
Do Save Extra Money!
Do Stay Current on Your Accounts!
Do Continue to Use Your Credit as Normal!
Do Provide Required Documentation!
Do Ask Questions!
No Renuncies a Tu Trabajo!
No Solicites Nuevo Crédito!
No Firmes Como Aval en Ningún Préstamo!
No Aumentes ni Consolides Deudas!
No Cambies de Banco!
No Transfieras Fondos!
Ahorra Dinero Extra!
Mantente al Día en Tus Cuentas!
Continúa Usando Tu Crédito Como de Costumbre!
Proporciona la Documentación Requerida!
Haz Preguntas!
GET PRE-QUALIFIED NOW!
Get pre-qualified for your loan with our free, quick, and easy application.
UNDERSTANDING THE
HOME BUYING PROCESS
ENTENDIENDO EL 
PROCESO HIPOTECARIO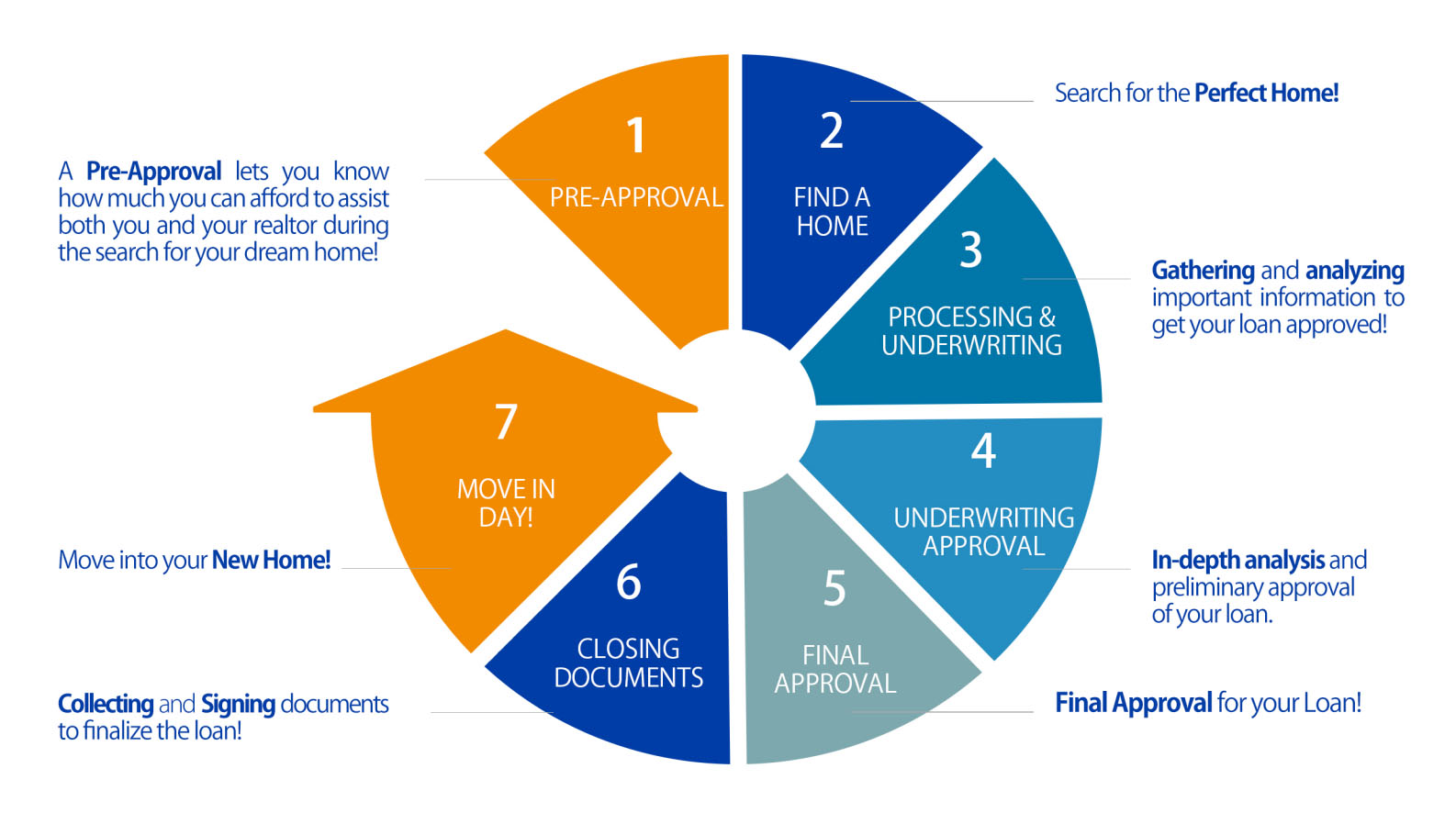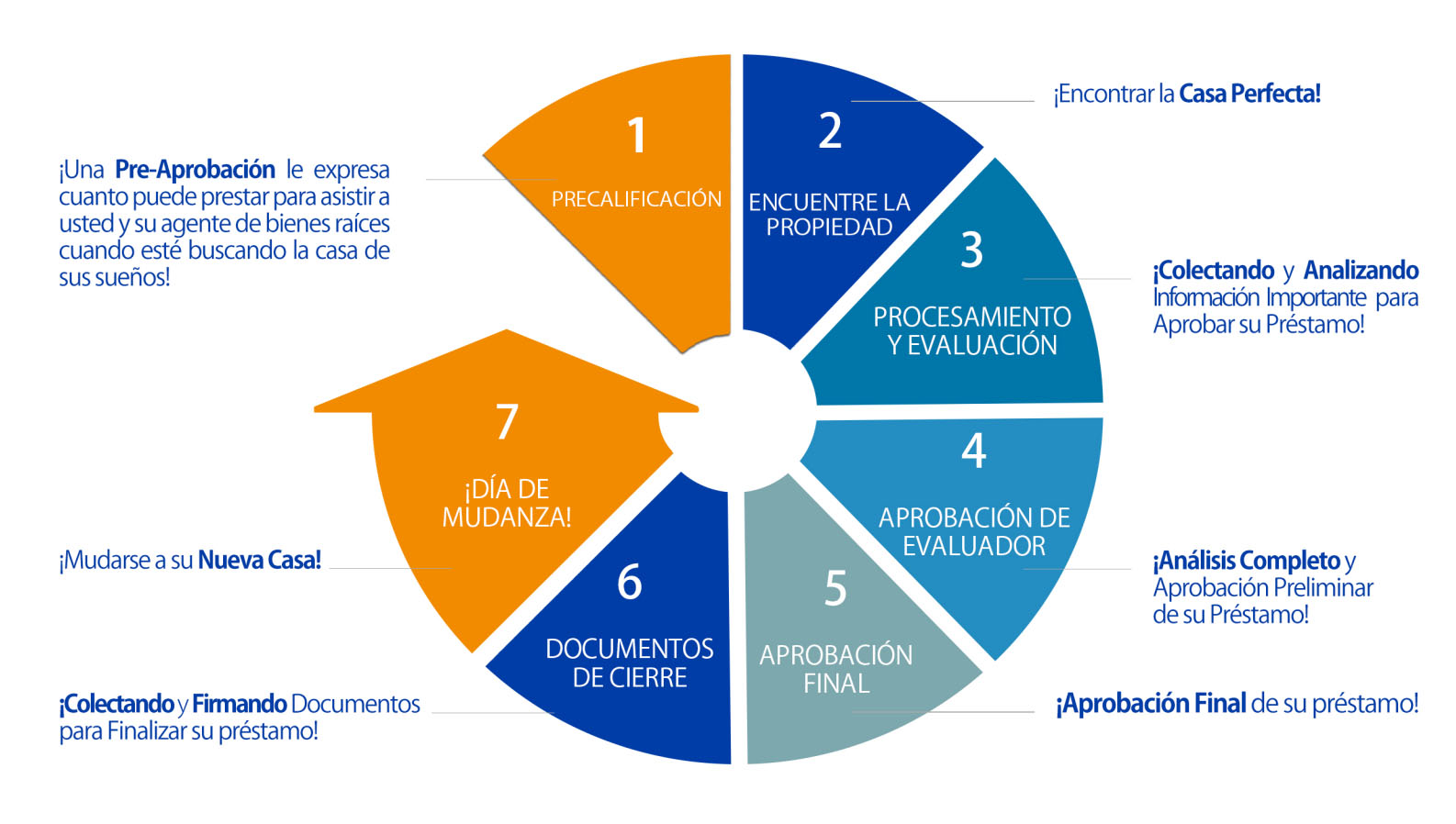 Homebuying: Closing Costs
UNDERSTANDING
    CLOSING COSTS
ENTENDIENDO LOS
    COSTOS DE CIERRE
Closing costs are expenses over and above the price of the property that are incurred throughout the mortgage process by the buyers and sellers when transferring the ownership of the property from one party to the other.
Los costos de cierre son costos por encima del precio de la propiedad que se agregan durante el proceso hipotecario por los compradores y vendedores al transferir la posesión de la propiedad de una parte a otra. 
Closing costs normally include the following:
Lender Fees
Origination Fees
Property Tax
Title Insurance Cost
Escrow Fees
Appraisal Fees
Los costos de cierre típicamente incluyen:
Cargo del Prestamista
Cargo por Emisión del Préstamo
Impuestos sobre la Propiedad
Cargo por Seguro de Título
Cargo de Depósito en Garantía
Cargo de Tasación
These costs will vary by state and county, as well as the loan type and lender.
Los cargos varían por estado y condado, y también por el tipo de préstamo y prestamista
Homebuying: budget worksheet
HOJA DE TRABAJO
    DE PRESUPUESTO
Purchasing a home is probably the most significant purchase an individual can make in their lifetime, making it all more important to understand how much you can afford to borrow. Use the lists below to calculate your monthly expenses and subtract it from your income.
Comprar una casa es una de las compras más significativas que una persona puede hacer en su vida, haciéndola aún más importante para entender cuánto puedes pedir prestado. Utiliza las listas a continuación para calcular tus gastos mensuales y restarlos de tus ingresos.
Once you've calculated your income and expenses, deduct your total expenses from your total income. Divide this number by 12 to determine how much you will have at the end of each month.
Ya que has calculado tus ingresos y gastos, réstalos de tus ingresos totales. Divide este número entre 12 para determinar cuánto dinero te quedará al final de cada mes.
INGRESOS
TOTAL DE INGRESOS
How much do you have left? Is this enough to put towards a monthly mortgage payment? Are there expenses you could eliminate or reduce? These are all items to keep in mind when purchasing a home. 
¿Cuánto le queda? ¿Será esto suficiente para un pago mensual de hipoteca? ¿Tiene gastos que se podrían eliminar o reducir? Todo esto debe pensarse al momento de comprar una vivienda.
Homebuying: Mortgage budgeting
WHAT IS YOUR
    MORTGAGE BUDGET?
¿Cuál es tu
    PRESUPUESTO HIPOTECARIO?
The first step in purchasing a home is determining how much you can afford to borrow. According to industry guidelines, a borrower can allocate 28% of their income towards their monthly mortgage payment.* Below is a chart to give you an idea of what your monthly mortgage payment might be depending on your annual income. It would be beneficial to look into your monthly expenses and see if you can accommodate a monthly mortgage payment into your budget.
El primer paso en comprar un hogar es determinar cuánto puede pedir prestado en un préstamo. Según las guías de la industria, un prestatario puede destinar el 28% de sus ingresos para un pago mensual hipotecario.* A continuación, está un gráfico para darle una idea de lo que puede ser su pago mensual dependiendo de sus ingresos anuales. Recomendamos que investigue sus gastos mensuales para asegurarse de que pueda acomodar un pago mensual hipotecario en su presupuesto.
| Annual Income | Monthly Payment |
| --- | --- |
| $30,000 | $700 |
| $40,000 | $933 |
| $50,000 | $1,167 |
| $60,000 | $1,400 |
| $70,000 | $1,633 |
| $80,000 | $1,867 |
| $90,000 | $2,100 |
| $100,000 | $2,333 |
| INGRESOS ANUALES | PAGO MENSUAL |
| --- | --- |
| $30,000 | $700 |
| $40,000 | $933 |
| $50,000 | $1,167 |
| $60,000 | $1,400 |
| $70,000 | $1,633 |
| $80,000 | $1,867 |
| $90,000 | $2,100 |
| $100,000 | $2,333 |
*NOTE: Monthly payment includes principal and interest. Keep in mind, taxes, insurance and homeowner fees will increase your monthly payment.
*NOTA: El pago mensual incluye capital e interés. Recuerde que los impuestos, el seguro y las tarifas de los propietarios aumentan su pago mensual.
Requesting a pre-qualification would be the next step to making the American Dream of Homeownership come true. After looking at your income and monthly expenses, and you feel you are ready to take the next step, contact a lender to look at your credit, income, assets and liabilities. The lender would then provide you the amount you are eligible to borrow and use for a new home. This number will prove you're a serious buyer and make it easier on you and your Realtor when searching for the perfect home.
Solicitando una pre-aprobación es el siguiente paso para cumplir el sueño americano de ser propietario de vivienda. Después de revisar sus ingresos y gastos mensuales, encuentre un prestamista que revise su crédito, ingresos, activos y pasivos cuando esté listo para dar el siguiente paso. Con esta información, el prestamista puede informarle cuánto es elegible para pedir prestado para comprar una nueva vivienda. Este número le ayudará a transmitir que es un prestatario serio y será de ayuda tanto para usted como para su agente de bienes raíces al buscar su hogar perfecto.
Homebuying: Mortgage CHECKLIST
NEW HOME BUYER
    MORTGAGE CHECKLIST
LISTA DE VERIFICACIÓN DE HIPOTECA
PARA NUEVO COMPRADOR
Purchasing a home is a great next step for everyone! In addition to filling out the application, there are several supporting documents needed for your lender to move forward with the home buying process. Below is a list of documentation needed for your application and the property to ensure your application process goes smoothly.
Comprar una vivienda es un paso grande para todo el mundo. Adicionalmente a cumplir una aplicación hipotecaria, hay documentos adicionales que son requeridos para que su prestamista pueda continuar con el proceso hipotecario. A continuación, hay una lista de documentos que son necesarios para la aplicación y la propiedad, para asegurar que el proceso se complete fácilmente.
| APPLICATION INFORMATION | Click to check |
| --- | --- |
| Home Addresses for Previous Two Years | |
| Social Security Numbers | |
| Employment Information for Previous Two Years: Including Employer Name, Address, and Phone Number | |
| Income Information: Including Salary, Overtime, Bonuses, Commissions, etc. | |
| Ongoing Income: Exclude Child Support and Alimony | |
| Liquid Assets: Including Bank Name, Account Type, Balance, and Source of Down Payment | |
| Other Assets: Including Bonds, Stock, Life Insurance, Retirement Funds, Automobiles, etc. | |
| Liabilities: Include Creditor Names, Outstanding Balances for All Debts Including: 401(k) Loans, Life Insurance Loans, Stock, Child Support, Alimony, Cosigned Loans, and Any Other Liabilities | |
| Real Estate Owned: Including Property Address, Market Value, Outstanding Liens, Rental Income, Mortgage Payments, Insurance and Maintenance Fees | |
| INFORMACIÓN DE LA SOLICITUD | Haz clic para verificar |
| --- | --- |
| Direcciones de casa de los últimos dos años | |
| Números de Seguro Social | |
| Información laboral de los últimos dos años: incluyendo nombre del empleador, dirección y número de teléfono | |
| Información de ingresos: incluyendo salario, horas extra, bonificaciones, comisiones, etc. | |
| Ingresos continuos: excluyendo pensión alimenticia y manutención conyugal | |
| Activos líquidos: incluyendo nombre del banco, tipo de cuenta, saldo y origen del pago inicial | |
| Otros activos: incluyendo bonos, acciones, seguros de vida, fondos de retiro, automóviles, etc. | |
| Deudas: incluyendo nombres de los acreedores, saldos pendientes de todas las deudas, incluyendo préstamos 401(k), préstamos de seguros de vida, acciones, pensión alimenticia, manutención conyugal, préstamos con codeudor y cualquier otra responsabilidad financiera | |
| Bienes inmuebles poseídos: incluyendo dirección de la propiedad, valor de mercado, gravámenes pendientes, ingresos por alquiler, pagos de hipoteca, seguros y tarifas de mantenimiento | |
PROPERTY INFORMATION
Click to check
Purchase Contract
Planned Unit Development, Condo, Co-op
Name of Development
Contact Information for Homeowners Associations
New Construction
Year Land/Lot was Acquired
Original Cost
Amount of Liens
Estimated Cost of Construction
Refinance Loans
Year Property was Acquired
Original Cost of Home
Cost of Improvements
Description of Improvements
Amount of Liens
INFORMACIÓN DE LA PROPIEDAD
Haz clic para verificar
Contrato de Compra
Desarrollo de Unidad Planificada, Condominio, Cooperativa
Nombre del Desarrollo
Información de Contacto de Asociaciones de Propietarios
Nueva Construcción
Año en que se Adquirió el Terreno/Lote
Costo Original
Monto de Gravámenes
Costo Estimado de la Construcción
Préstamos de Refinanciamiento
Año en que se Adquirió la Propiedad
Costo Original de la Vivienda
Costo de Mejoras
Descripción de las Mejoras
Monto de Gravámenes
SECURING YOUR LOAN HAS NEVER BEEN EASIER!
Whether you are a first-time homebuyer or are looking to refinance your existing mortgage, PRMG's home mortgage professionals can provide you with the information and resources you need to make an informed decision about your financial future. We pride ourselves on our commitment to customer service and will work tirelessly to ensure that you receive the best possible experience.